The Best MT4 Indicators For Scalping
Anastasiia
One tool scalp traders use in their technical analysis is forex indicators, and rightly so.
Indicators offer a quick way to analyze the chart and even derive instant signals. These two abilities of indicators are very important to scalpers, as they have to make split-second decisions in order to rake in their pips.
However, there is an unending list of indicators out there, such that it could be almost impossible to pick one. The decision is made even more difficult by the different nature of these indicators.
For instance, some indicators are for trend trading, while others are for reversals. You'll also find those that help you determine market volumes and volatility. As a result, a novice trader who doesn't already know all the trading tools they need may find it even harder to pick and use these indicators rightly.
And so we dedicate this piece to all scalpers, novice and expert, who need a shortlist of the best MT4 indicators for scalping.
Table of Content
Let's get into why we think these indicators are the best for scalping on the MT4.
1. Best Scalping Indicator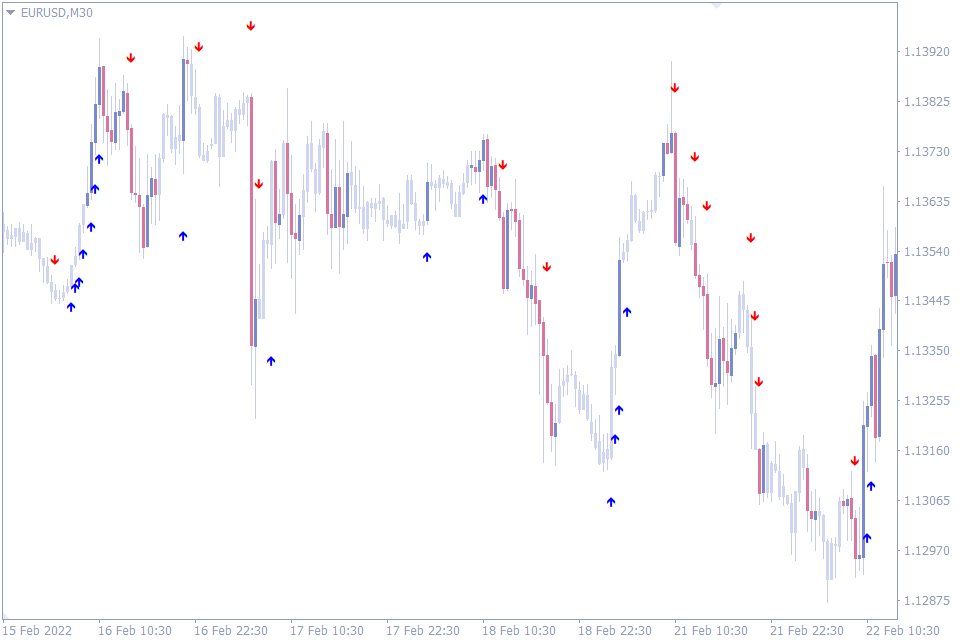 No, that is not a mistake. The name of the first indicator on our list of the best MT4 indicators for scalping is the Best Scalping indicator. Here's why that is.
The Best Scalping indicator is a simple trend indicator that gives you buy and sell signals using blue and red arrows on any currency pair. The blue, upward-facing arrow denotes a buy while the red, downward-facing arrow tells you to sell.
By determining price momentum, the Best Scalping indicator highlights short-term trends on the chart and gives potential entry and exit positions on the currency pair.
While this indicator works on any timeframe, the best timeframe to use it on are the 30 minute, 15, and 5-minute charts. It is for that reason it was called the Best Scalping indicator, which is the same reason we have it on this list.
We think this scalping indicator is best for those timeframes because the indicator tends to give many signals. These signals can often be misleading in a dead or uncertain market scenario, but they play out admirably on strongly ranging or trend markets. So when you make trades using this indicator in its ideal market setting and in those timeframes, you are likely to make more gains and minimize losses.
Here's a word of advice when using his indicator: Don't use it in its default setting. The default setting is most likely going to give too many false signals. Go to its settings and tweak the input settings until you have fewer and more accurate signals.
2. TTM Scalper Indicator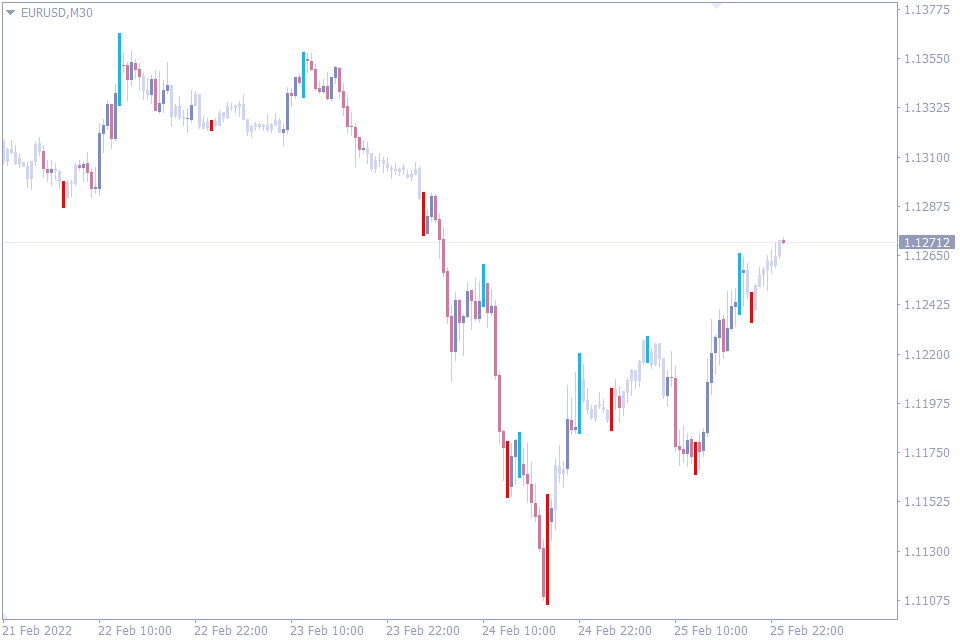 TTM Scalper indicator is best for scalp traders who are hoping to catch the beginning of new trends at trend reversals. With this indicator, these traders can easily catch the price at its swing highs and lows and the point of reversals.
While there are many other indicators like this indicator, what makes this indicator stand out from others is the simplicity with which it displays its signals. It uses simple blue and yellow bars to denote bearish and bullish reversals, respectively. This simplicity allows scalpers to jump on short-term positions as suggested by the indicator with ease.
Here's a piece of advice: Don't use the TTM Scalper indicator in isolation If you want to get the best result. Rather, combine it with your knowledge of price action.
For instance, there's this saying that "the trend is your friend." That is, you should trade in the direction of the trend, as doing otherwise could be riskier. Therefore, using the TTM Scalper indicator to look for trade entries that are against the trend could backfire.
The TTM Scalper indicator works on all timeframes and currency pairs on the MT4. But the lower timeframes are where the indicator recorded its highest success rate when we tested it out.
3. Scalper Dream Indicator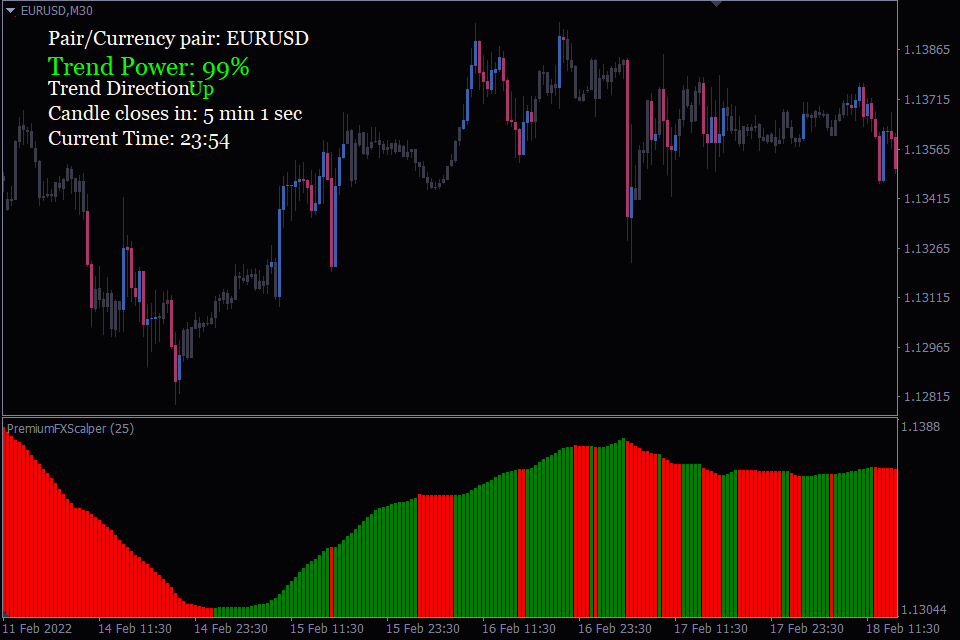 The Scalper Dream indicator is simply one of the best Metatrader 4 indicators for scalping because of these two things:
The first reason is its simplicity. It uses red and green bars that denote buy and sell signals on your chart. The green bars are bullish signals while the red bars are bearish signals.
But that is only the first half of what makes the Scalper Dream indicator one of the best. After all, many other indicators offer bar chart-based signals.
The other half of this indicator is the additional text-based information it displays at the top left corner of the chart. These give you important pieces of information, such as the trend power and the trend direction. With these, you can easily filter out your trades so that you are only left with medium to high probability trades.
These extra bits of information are important to scalpers because they are less likely to trade against the trend or jump on weak trends when they use the indicator.
Another feature that makes this indicator a true scalper's dream is that it even tells you where to set your take profits and stop losses occasionally. Novice traders are going to enjoy this indicator best.
Despite the sophistication of this indicator, it is best to use it with accurate price action knowledge. Indicators are mechanical, and they can often be wrong. But price action helps you add more details to your analysis, hence reducing your risks.
4. Support and Resistance Indicator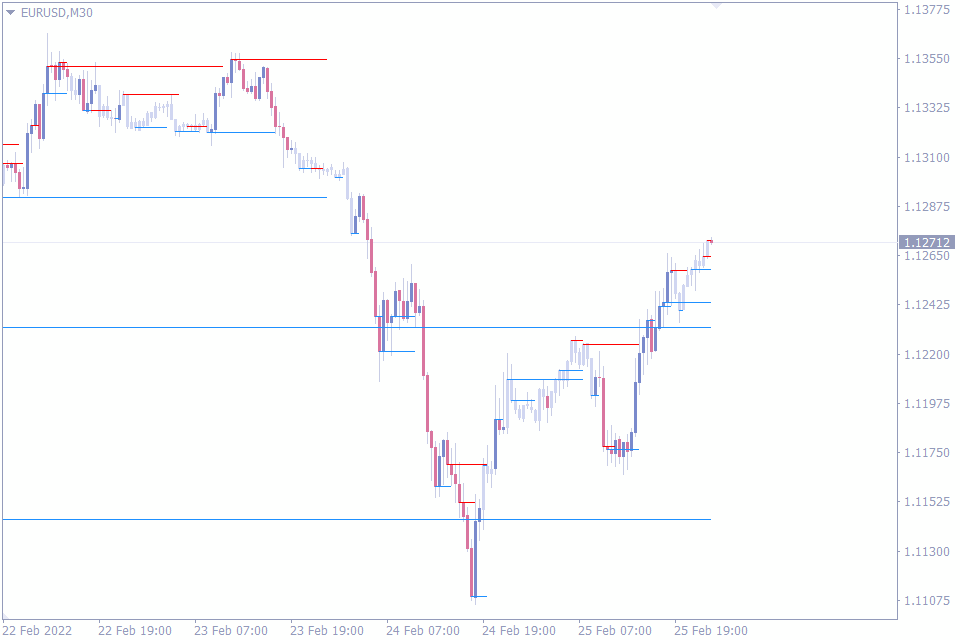 Identifying and defining supports and resistance levels in forex charts is one of the most basic things you're likely to learn in any forex academy. And that's because of the sheer importance of this price action tool.
However, many novice traders find it hard to define their support and resistance levels properly, which often costs them. This is the problem that the support and resistance indicator helps to solve.
The Support and Resistance Indicator helps you to draw out support and resistance levels on the chart. It uses red-colored lines for support and blue-colored lines for resistance.
The best part of the indicator is that you can use the support and resistance levels generated by this indicator in the same way you would use your manually drawn support and resistance zones. In other words, you can trade breakouts and retests, ranges, and many more.
Another benefit of the auto-generated supports and resistance zones is that novice traders can learn how to draw out their zones of support and resistance. This is not a substitute for manually drawn support and resistance indicators. This indicator is only meant to hold your hand while you learn how to define your own support and resistance levels.
5. RSX Indicator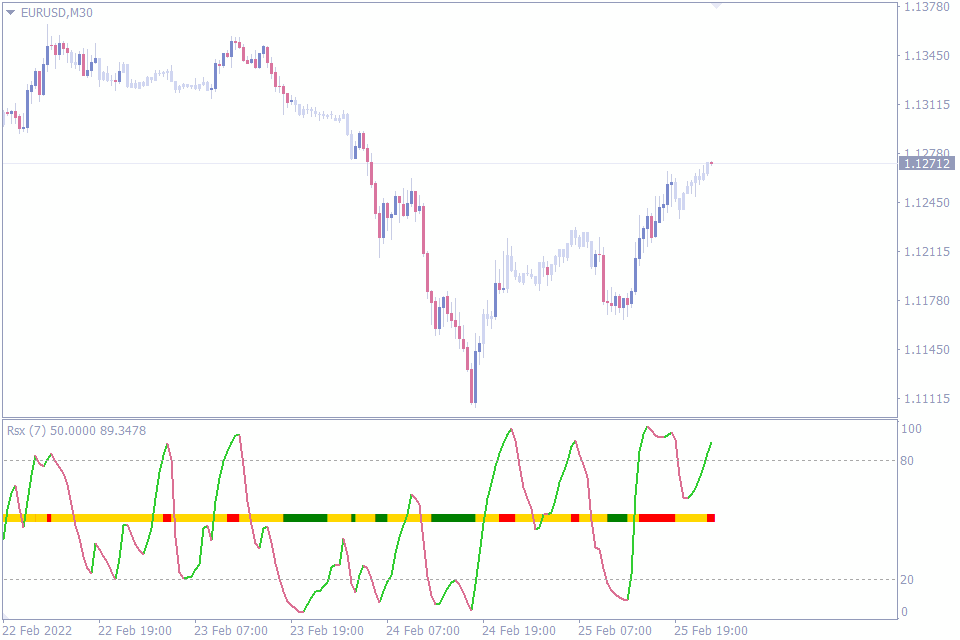 Forex scalping and trend trading are inseparable. And in all fairness, many indicators can help by giving you trend trading signals. The RSX indicator is just one of them.
But what makes the RSX get into this list and not just any other indicator?
Firstly, the RSX has multiple ways of confirming a trend. It has a moving average line that oscillates from the top to the bottom of the indicator window on your MT4. This moving average line changes from purple to green to give buy and sell signals.
That moving average line is then complemented by a series of horizontal square dots in red, green, and yellow. The red denotes a sell, the green denotes a buy, and the yellow occurs when there's no clear direction.
Another reason the RSX is on our list of the best MT4 indicators for scalpers is that it can also predict overbought and oversold prices, just like the popular RSI indicator. This means scalpers can time trend reversals into their trade setups while also getting in on trends.
This multifaceted nature of the RSX indicator is ultimately what makes it one of the best indicators for scalping.
6. Laguerre Filter Indicator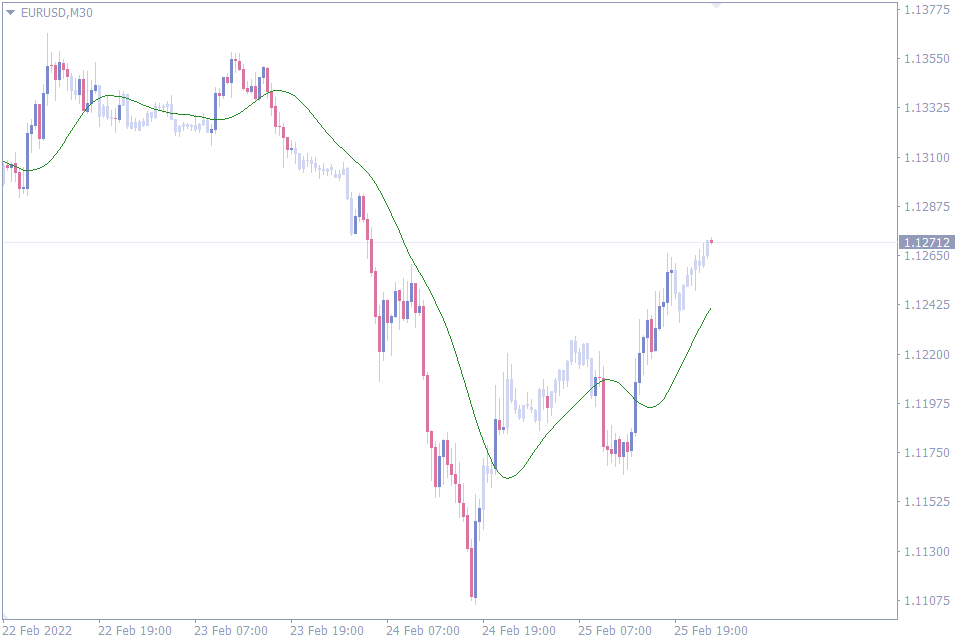 The Laguerre filter indicator looks like the moving average on your chart, but it isn't a moving average. It is an indicator that is based on John Ehlers' gamma parameters. However, that's where the differences end.
The rest of the way, you can use this indicator as you would use any other moving average indicator. That is, you can trade trends, reversals, and crossovers with the indicator. However, what makes the Laguerre filter indicator peculiar is the different perspective it gives to your trading, which is unlike what all the moving averages offer.
For instance, the Laguerre, at its default setting, seems to follow the price smoothly. Maybe even more smoothly than the smoothed moving average. It doesn't stick too close to the price, neither does it stay too wide apart. It is for this reason that the Laguerre filter indicator ranks as one of our picks of the best mt4 indicators for scalping.
7. Non-Repainting SuperTrend Indicator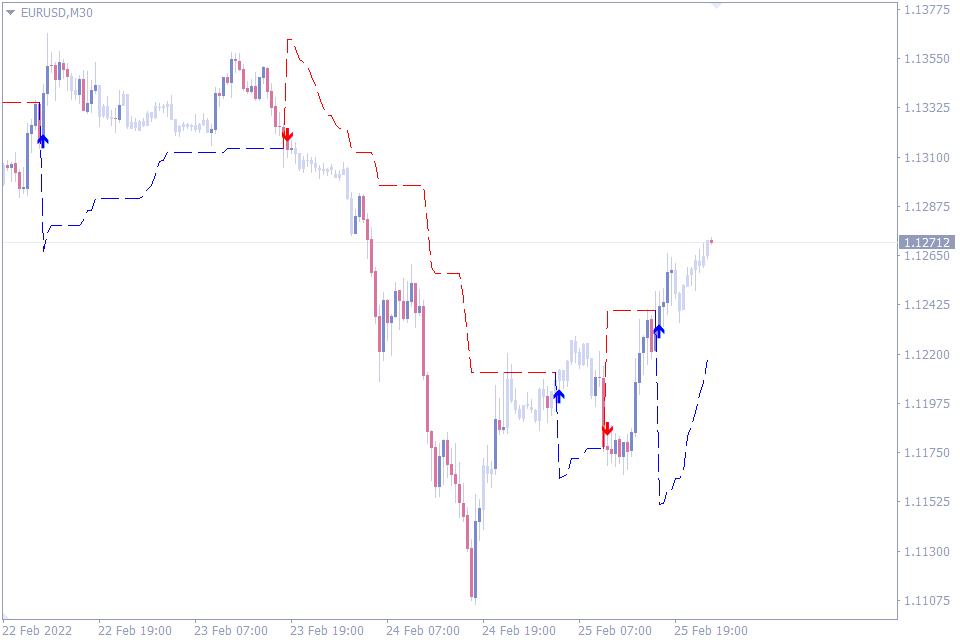 Apart from the rigid support and resistance levels that we often draw out ourselves, there are dynamic supports and resistances which are best derived from trading tools. The Non-Repainting SuperTrend indicator is such a tool.
The SuperTrend indicator helps you stay ahead of trends by predicting potential points of reversal using dynamic supports and resistances. The indicator uses price medians and the Average True Range to calculate its dynamic levels. These dynamic levels move along with the price until the price crosses it. This crossing marks the beginning of a reversal.
The important thing about the SuperTrend indicator is that it does not repaint its signals. This way, you can easily rely on the credibility of the indicator to not fool you with false and repainted signals.
Another reason the SuperTrend indicator stands out is in the ways it can be used. Apart from trading reversals, it can also be used in trend continuation trade entries. For instance, you could make multiple buy trades as long as the SuperTrend indicator remains green, and the price is above it.
Perhaps, one feature that endears this indicator to us is how it suggests stop-loss levels. On every signal that the SuperTrend gives, it makes a sharp move in the opposite direction to give the signal some space to establish itself. Many traders use the end of this sharp move as their stop losses.
8. AMA Bands Indicator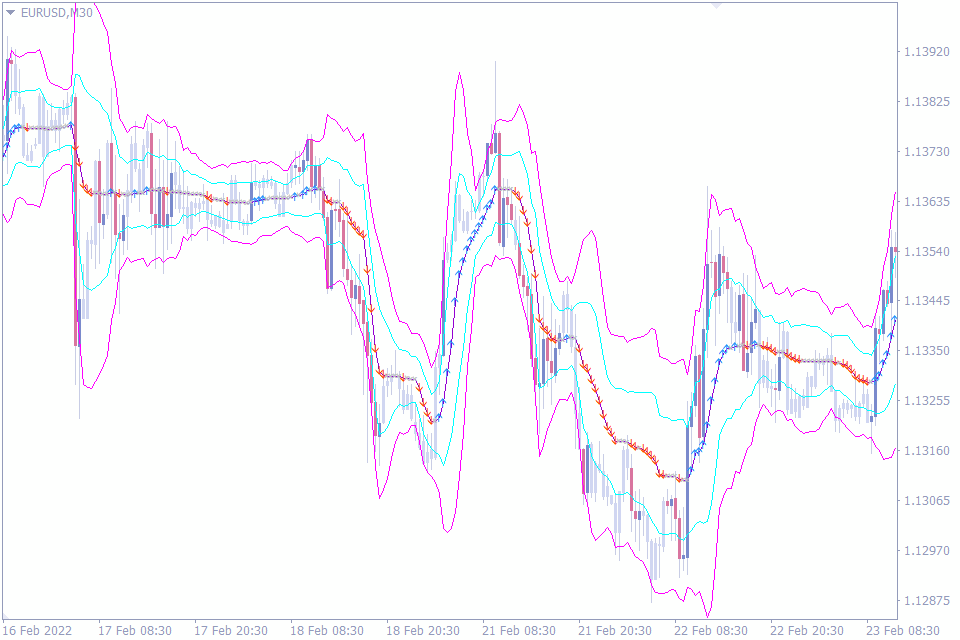 Adaptive Moving Average bands, as the name suggests, are bands of moving averages. But what makes these bands special?
The AMA Bands indicator encloses the price in a band of moving averages in almost the same way the Bollinger Bands enclose the price. These moving average bands can expand and contrast, depending on the market volatility.
There are several reasons the AMA Bands indicator is present on our list of best indicators for scalping. The first is how it serves as dynamic support and resistance for the price. And this bit of information helps to add an extra perspective to your trade setup.
AMA Bands indicator also helps you predict where the price might make a reversal, just like the Bollinger bands indicator does; when the price touches the outermost bands, a reversal may be impending.
Another standout feature the AMA Bands indicator has is its arrows that point upwards or downwards, signaling bullish or bearish moves. The feature, as simple as it is, can be immensely useful for novice traders who need help figuring out how to trade trends.
However, this indicator, unlike many other indicators, will fail you if you use it in isolation. Rather, use it in confluence with other indicators and price action tools to get the best out of it.
9. SM Buy Sell Pressure Indicator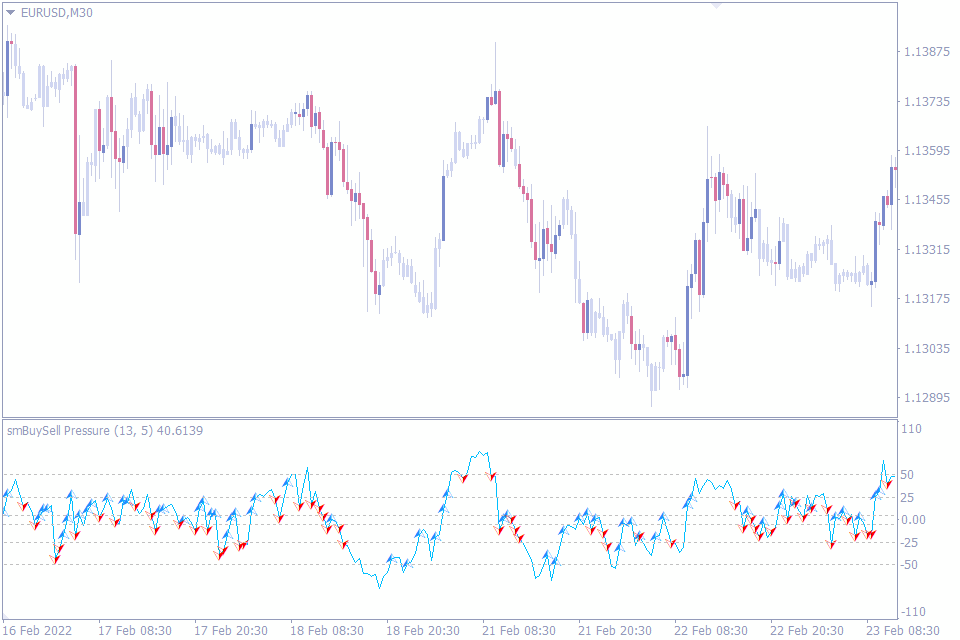 The SM Buy Sell Pressure indicator is a momentum indicator that effectively predicts overbought and oversold price levels in forex. And it doesn't just do that, it also offers signal arrows that help you know when to buy and when to sell.
The momentum indicator has a signal line that oscillates between a range of 110 and -110 on the vertical side of the indicator window on your MT4. It then uses two other lines to denote the 50 and -50 levels. When the signal line ventures outside of this inner range, it is considered as being overbought or oversold.
Predicting overbought and oversold levels is not the only thing the SM Buy Sell Pressure indicator is good for. It also has some inner bands that predict buy and sell levels within a trend. And this is another reason it counts as one of our best indicators for scalping.
Scalping is a race against time. A scalper wants to make as many trades as they can within a short time. As such, every tool they use must be able to help them make split-second decisions, which the SM Buy Sell Pressure indicator does quite well. Its signal arrows help scalpers visualize potential buy and sell levels using upward and downward facing arrows.
10. Super Signal Indicator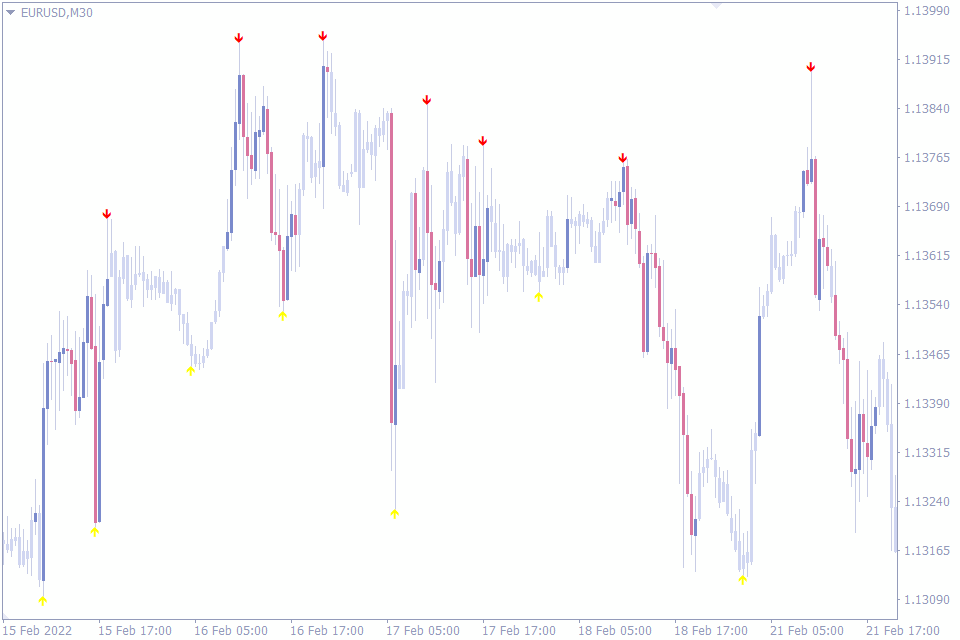 The Super Signal indicator might as well be called the Super Simple indicator, seeing how very simple this indicator is to use. Don't let its simplicity deceive you, though. This indicator is as effective as it is simple.
The signals of the Super Signals indicator appear as basic red and green arrows that act as a sell and buy signals. It then comes with a simple instruction to buy at the green arrow and sell at the red arrow.
In addition to its simple buy and sell instruction, the innovative use this indicator has is to help tell if the market is in an uptrend or a downtrend.
For instance, when you see a bullish arrow that appears above another bullish arrow, this often means the price is forming higher lows. And this is a characteristic of an uptrend. But when the bearish arrow falls below the most recent bearish arrow, you may trade the market as if in a downtrend. Who knows? You may even be able to form trendlines off of this.
Finally, the Super Signal indicator gives automatic sound alerts at every signalon the MT4 to make ensure that traders don't sleep on their signals.
At the risk of sounding too repetitive, we believe the best part of this indicator, which is also the reason we have it on this list, is the simplicity with which it displays its signals. And the signals have reasonably high accuracy.
Conclusion
And that's it. The list of the best MT4 indicators for scalping.
However, these indicators are not just useful for scalpers. Without a doubt, intraday traders and swing traders can easily benefit from those indicators.